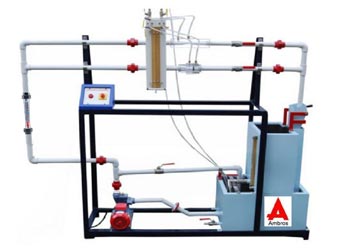 Measurement of liquid flow is required at various places and for various purposes. Different types of flow measuring devices are used depending upon the system conditions, accuracy required, skill of operator and economy desired. The unit demonstrates some of the flow measurement devices.
SPECIFICATIONS:
[1] Intergratiry Type Turbine flow meter.
[2] Glass Tube Rotameter.
[3] Orificemeter differential manometer.
[4] Venturimeter
[5] Measuring Tank
[6] Stop Watch (Digital)
[7] 112 HP Monoblock Pump.
[8] A differential manometer.
[9] Sump tank of suitable capacity.
A technical manual accompanies the unit.
SERVICES REQUIRED:
[1] Flow surface 2 mtrs. X 1 mtr. X 1.5 mtrs. height.
[2] 230 Volts, 5 Amp. Stabilized AC.Power Supply