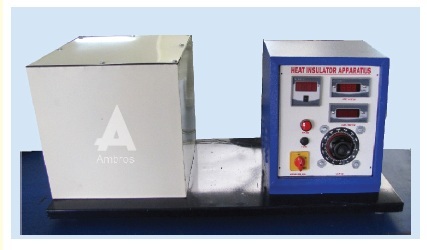 Citical Radius of Insulating Material:
At particular radius of insulation over a cylinder, loss of heat is maximum. The unit consists of a G.I. pipe provided with plaster of Paris insulation on out side surface. Four pipes are provided with heater inside having input control. Input to heaters is measured by common voltmeter and ammeter, by controlling input to heaters, it is shown that critical radius of insulation is ratio of thermal conductivity and outside heat transfer co-efficient.
SPECIFICATIONS:
1.G. I. Pipes with electrical heater inside – 4 Nos.
2.Insulation over the pipes of different thickness.
3.Controls and Measurements –
a) Dimmerstat to control heater input – 4 Nos.
b) A voltmeter and ammeter to measure inputs to heater.
c) Digital temperature indicator to measure temperatures across insulation.
d) Necessary switches and controls.
A technical manual accompanies the unit.
SERVICES REQUIRED :
230 V, 5 Amp., A.C., Supply with earthing connection.
Floor Area of 1 m. X 1 m X 1.5m. height.