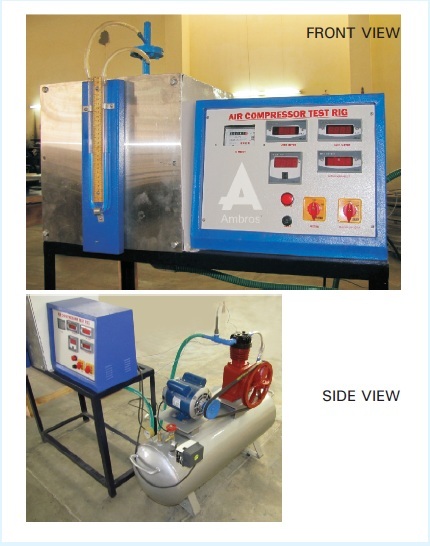 The test rig comprises of a Single stage air compressor fitted with an air tank with orifice, pressure gauges, and an energy meter to measure the input & a Temperature indicator measures the temperatures at various points. The compressor is mounted on air receiver along with the motor, and is provided with air relief valve (safety) and a pressure switch. The unit determines volumetric efficiency and isothermal efficiency at various discharge pressures
SPECIFICATIONS:
1.Air compressor – Single cylinder, Single stage type driven by a 2 hp. Three phase motor mounted on air receiver provided with delivery valve.
2.Air tank and orifice with water manometer for air intake measurement.
3.Pressure gauge to measure the discharge pressure.
4.Digital temperature indicator.
5.Energy meter to measure input power.
6.A technical manual accompanies the equipments .
SERVICES REQUIRED:
1.Floor space of 2.5 X 1,5m.
2.440 V, 15A, 3ph. AC supply with neutral and earthing connection.
3.A hand tachometer.